Solid surface countertops: The primary raw materials are unsaturated polyester resin, aluminum hydroxide, calcium carbonate, and natural raw materials, and they have a smooth surface, seamless stitching, solid construction from the bottom to the surface, no pores, no dirt, and a soft and gorgeous color. They also have a high gloss and sufficient strength and hardness. No bacterial development, non-radiation, non-toxic, simple to clean, and remains new over time. The most widely used fake Solid surface is resin-based (unsaturated resin with filler).
Solid surface countertops offer several advantages. They are highly resistant to stains, scratches, and heat, making them a popular choice for kitchens and bathrooms. Additionally, they can be seamlessly integrated, allowing for smooth and continuous surfaces without visible seams or joints. This makes them easy to clean and maintain.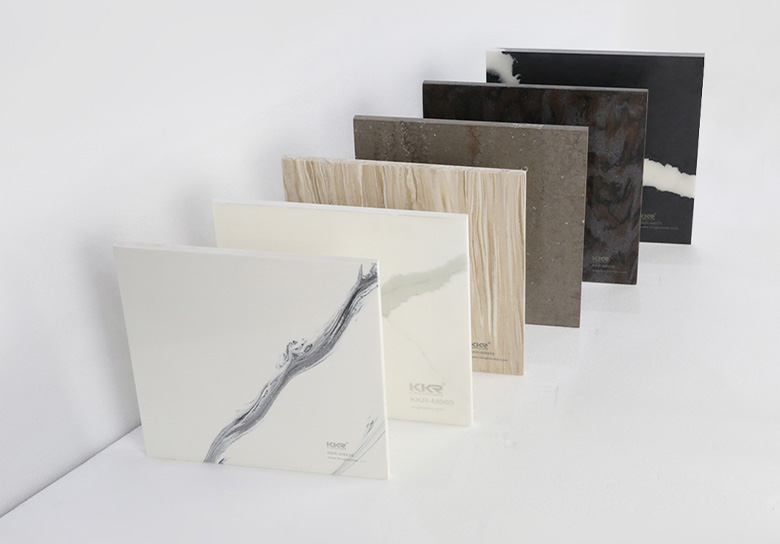 One of the notable features of solid surface countertops is their ability to be repaired and renewed. In the event of minor scratches or damages, the surface can be sanded and buffed to restore its original appearance. This makes solid surface countertops a cost-effective option in the long run.
Moreover, solid surface countertops come in a wide range of colors, patterns, and textures, allowing for customization to match various design preferences. They can be molded into different shapes and sizes, enabling flexibility in design and installation.
Welcome to learn more about solid surface countertop design at www.kkrsolidsurface.com