Countertops Sinks have many benefits, but a significant amount is taken up by deformation processing techniques and talents due to the unavoidable expansion gravity of artificial stone made primarily of unsaturated resin.
These days, bathroom items also use artificial stone to create countertops sinks that are non-standard in size, resolving the issue that typical ceramic basins cannot handle.
To assist you in making the best maintenance decisions, let's discuss the pros and cons of artificial stone mesas and type division.
Benefits of Countertops, Sinks, etc.
Countertops have good machineability. Sinks come in a variety of sizes. Can be virtually completely merged, almost the same color bonding, unlike natural marble, quartz stone, and other materials.
Anti-penetration is useful because Countertops Sinks, also known as polymer material, have anti-penetration and cabinet corrosion properties. It is acceptable to say that the cabinet table is a better fit for it. It is a flaw in genuine marble.
No need to be concerned about radiation: Unlike natural marble, artificial stone has no radiation and has no negative impact on the human body.
Bright and vibrant colors offer a wide variety, are versatile, and make it easier for designers to combine them in ways that best suit their clients' personalities.
No matter how good the plate, if you don't have anti-expansion processing skills and targeted processing methods, it won't become a "beautiful and practical" bath counter surface. All types of artificial SLATE only belong to "raw materials," need to go through the process of processing deformation, and therefore, are only "raw materials" when they aren't processed to become sanitary tables. It can be seen that the value that results from the perception after practice is embodied by KKR processing skills.
There is a significant difference between the visual and functional performance of KKR processing technology, making it a crucial consideration when choosing cost performance.
More customized types
bg

Solid surface countertops are a financially friendly way to get beautiful countertops, with a great deal of color and pattern choices.

There are a few different types of solid surface countertops, each having different pros that can suitable for different occasions, the options can be found in the above pic.
Project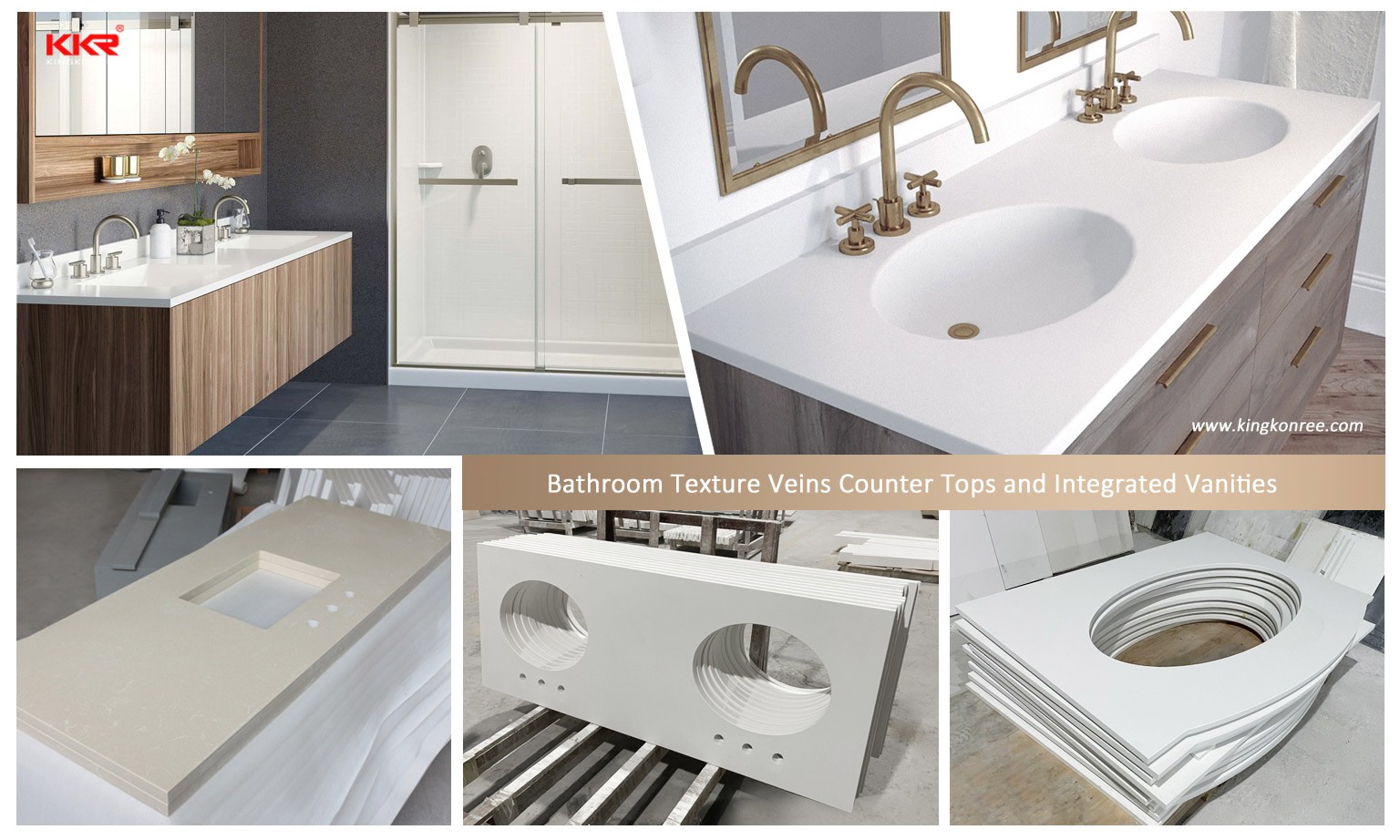 Years of industry precipitation.
Focus on high-quality sanitary ware customization.
Provide high-quality integrated for bathroom, schools, hotels, apartments, dormitories, hospitals, and other places.
Production Process