A new form of bathroom fixture, the environmental protection toilet washing table has significant health and environmental benefits. The first three environmentally friendly materials used in bathroom counters are ceramic, marble, and quartz stone. Let's learn more about these three materials!
1. Artificial stone
Artificial stone won't subject people to harmful radiation because it uses actual stone powder, which is non-toxic and environmentally beneficial. The products were all discovered to be in good shape.
The entire uniform, seamless splicing, and seamless splicing properties.
Simple to maintain; daily cleaning with rags and water; no waxing required; to repair any scratches, simply wipe them with water and sandpaper.
Any cooking implements are heat- and fire-resistant and won't leave scalding marks.
Due to the vacuum encryption treatment, artificial stone is anti-fouling and anti-corrosion and only absorbs 1% of the water of natural marble. It will also never absorb stains.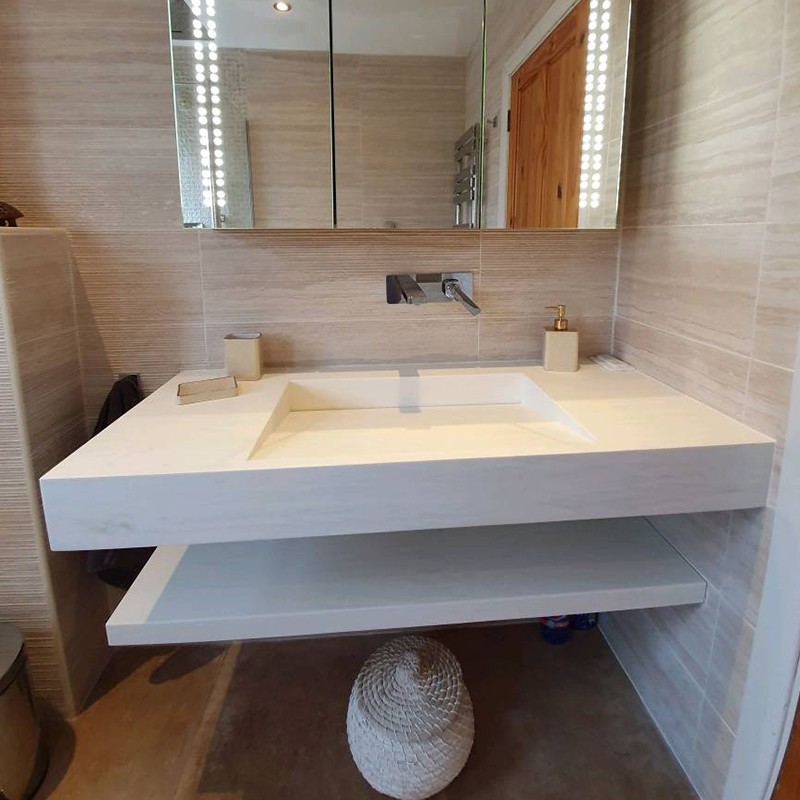 2. Ceramics
Between metal and glass, ceramic is a type of item that is easily fragile; Currently, the state does not have a universal requirement for ceramic thickness, and most enterprises do not use ceramics that are thick enough to be safe because they want to save money; Due to this, porcelain is vulnerable to breakage. Broken ceramic water chestnut is especially sharp, making it simple to graze flesh or even injure users. Please refrain from selecting if the user is a parent because you may already be aware of the effects of a damaged toilet! In order to ensure quality and service, it is best to purchase ceramic products from well-known manufacturers.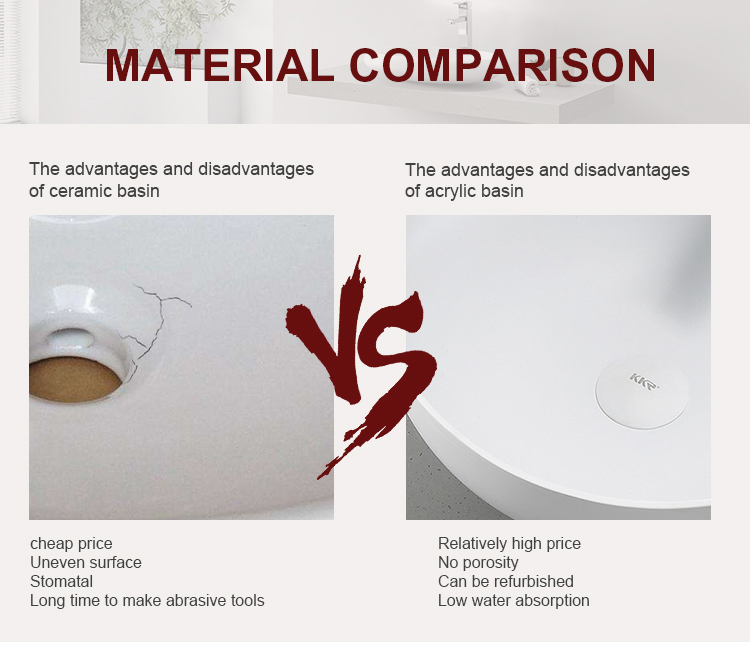 3. Marble

Natural marble is the exact opposite of ceramic; it is tough yet not fragile, and typically has a thickness greater than 1.6CM; marble may be fashioned into a number of shapes and has a wide range of color; The key is that real marble will not change color, it can maintain household products new over time, whereas the color of ceramics will oxidize and turn yellow and pale after a long period. It is the primary material of all kinds of high-end bathroom furniture. As a sedimentary rock with very low radiation levels and in accordance with national safety requirements, marble and marble products are not harmful to humans;
Because marble can be easily adjusted in terms of size and perfectly complies with the size criteria of custom bathroom cabinets, marble countertops are typically used with these cabinets.
As previously indicated, the height and depth of the artificial stone environmental protection bathroom washing table are quite acceptable, making it more pleasant and convenient for people to use.
The primary component of the fake stone environmental protection bathroom washing table is relatively durable, has a strong level of wear resistance, and exhibits low levels of corrosion resistance. As a result, it will not bend or become damaged over time and will have a longer lifespan.
The environmental protection bathroom washing table is a more all-inclusive piece of bathroom equipment in general. It not only fulfills people's fundamental cleaning requirements, but also offers benefits for their health, beauty, comfort, and durability. If you want to upgrade the bathroom fixtures, it is advised that you think about going with an eco-friendly bathroom washing station that will improve the way you feel about life.