Easy-to-repair, potentially seamless, and easy-to-clean, solid surface countertops are a solid alternative to granite and quartz.
Unlike natural stone such as granite and marble, solid surface countertops are manufactured from a combination of resin and natural minerals. It is considered superior to other affordable countertop options like laminate, because they're made from a solid piece of material. Laminate is layered on top of medium-density fiberboard (MDF) and therefore can't be easily sanded down or repaired.
The original solid surface countertop on the market was branded as Corian and created by DuPont in 1967. While it was originally patented by the brand, the patent eventually expired and a number of competitors entered the market. Today, this competition results in solid surface countertops being an extremely affordable alternative to pricier natural stone.Keep reading to find out the pros and cons of solid surface countertops so you can decide if the material would make a good addition to your kitchen.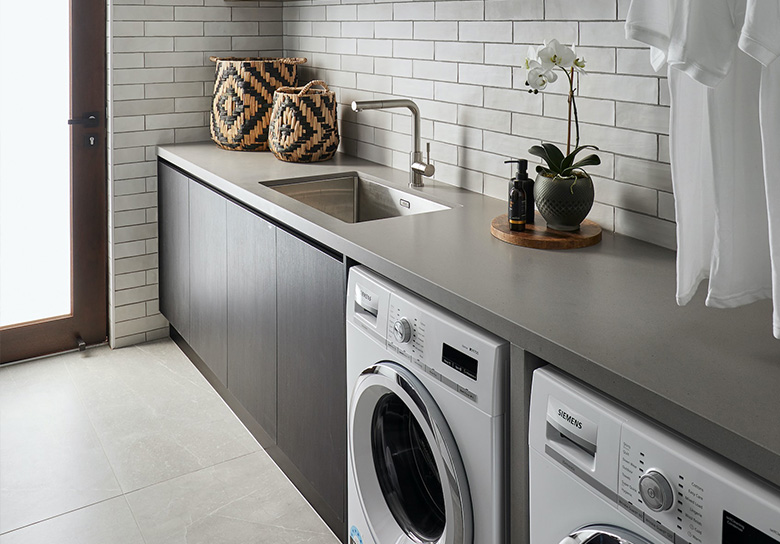 1. Solid surface counters are made of dense acrylic, polyester, or a combination of both.
Solid surface countertops are made up of three elements: mineral particles, a bonding resin, and added pigments. The most commonly used natural mineral filler is alumina trihydrate (ATH) and the resins are made up of either polyester, acrylic, or a combination of the two.
· Acrylic-based solid surface materials are durable and have a matte appearance. It's easier to create countertops that appear seamless when using acrylic-based solid surface materials because the adhesives used to bond the materials stick more easily to acrylic than polyester.
· Polyester-based solid surface countertops tend to be more affordable but are moderately more brittle than acrylic countertops. They have a slightly glossier appearance and perform best when trying to recreate vibrant colors. Polyester is UV-resistant, so this style of countertop is unlikely to fade due to sun damage.
· Acrylic- and polyester-based solid surface designs combine the attributes of both materials and are used by many manufacturers.
When choosing a solid surface material for use in home design, it may not be clear whether the product is made using polyester or acrylic. In order to ensure the best performance for your needs, seek out the product's technical specifications before making a decision.
2. Solid surface countertops are nonporous and easy to clean.
One of the biggest advantages of solid surface materials is that they're practically nonporous, so they are easy to keep clean. Hospitals and other healthcare facilities often use solid surface materials around sinks, in showers, and on walls because their nonporous qualities prevent them from harboring potentially harmful bacteria. Unlike natural stone countertops, solid surface countertops do not need to be sealed because the resins in their makeup ensure that they are inherently nonporous.
When it comes to affordable countertop materials, the only one that performs similarly is quartz, which is equally nonporous. Wood butcher block countertops are extremely porous, making them tricky to sanitize, and ceramic tile counters feature grout between each tile which is similarly hard to clean. Even pricier materials like marble are porous and aren't as sanitary as solid surface counters.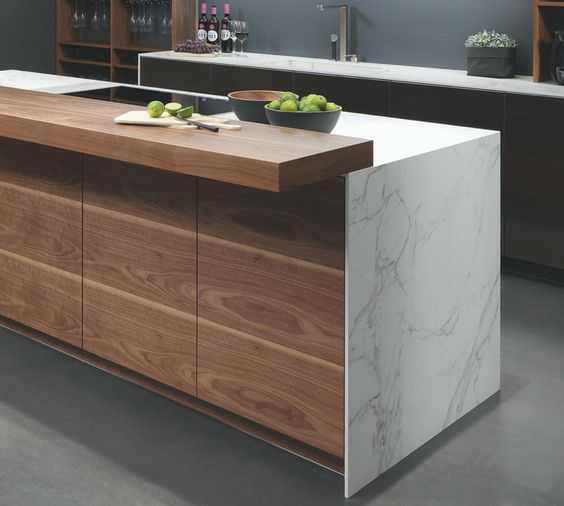 3. Extreme heat can damage solid surface material.
Many countertop materials are touted as being heat resistant, but can still be damaged if exposed to extremely high temperatures. This is a major downfall of solid surface material, as both solid surface materials made from polyester and acrylic are equally intolerant of high heat.
While solid surface countertops can tolerate heat as high as 212 degrees Fahrenheit—the temperature of boiling water—they will likely be scorched or stained by the bottom of a hot pot or pan. Luckily, if a scorch or burn does occur, it's relatively easy to resurface the affected area to make it look new again.
4. Solid surface counters are easy to repair.
One of the primary downsides of solid surface countertops is that they scratch easily since they're made of a relatively soft material. They can be damaged by knives and other utensils, resulting in unsightly markings. Since scratches in solid surface material appear to be white, it may be best to use white solid surface countertops in busy prep areas like kitchens.
On the bright side, this style of countertop is extremely easy to repair. Unlike many other materials, which should only be repaired by professionals, solid surfaces can be sanded down using a random-orbital sander and fine-grain sandpaper. The same process can be used for burns and will make the surface of the counter look new.
5. A solid surface can appear seamless.
When compared with glossy quartz, granite, and marble, solid surface countertops typically have a relatively matte appearance that contributes to a modern look. While it is possible to buff a solid surface to give it a higher gloss, it's not recommended because the surfaces will show scratches more easily.
Aesthetically, solid surface countertops have a major advantage over many other popular countertop materials. Unlike granite and quartz, the seams of solid surface countertops are nearly invisible when it's correctly installed by a professional. This allows for large continuous sections of countertop that can be visually appealing. It also allows for fully integrated sinks that appear to be completely seamless and are impermeable, preventing the build-up of liquid that may lead to mold and other issues.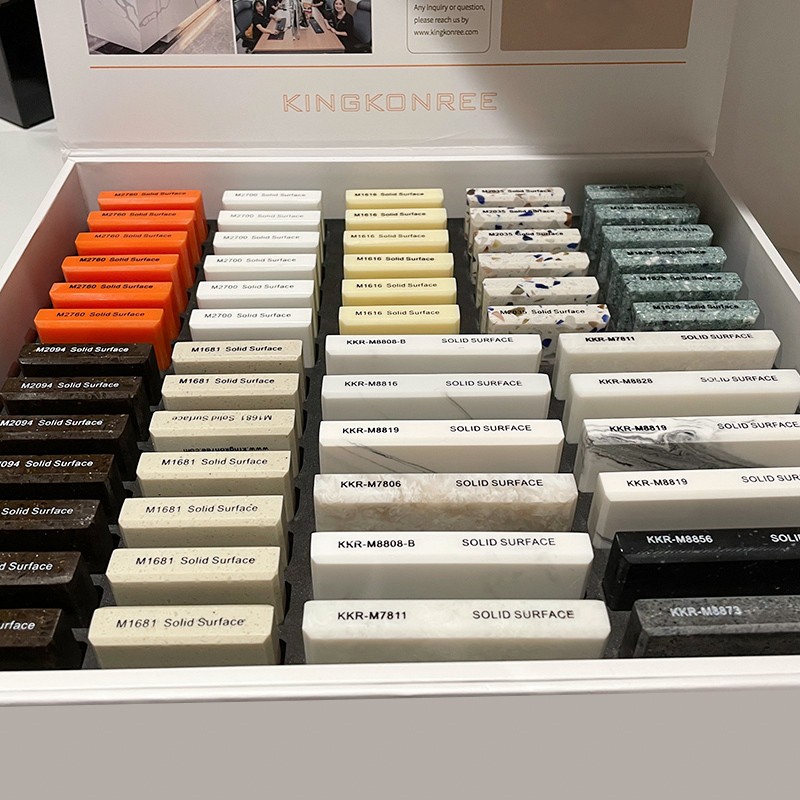 6. Solid surface countertops can provide the look of stone for a lot less.
Those looking for the high-end appearance of natural stone countertops who don't have large budgets may want to consider solid surface as a more affordable alternative. This material can be crafted to mimic pricey stone surfaces at significantly less cost. Solid surface countertops are usually just $35 to $85 per square foot, whereas marble typically costs between $75 and $250, and granite costs between $45 and $200 per square foot.
On top of having a more affordable initial price, solid surface countertops also require less maintenance. Granite and marble need to be sealed in order to protect their delicate surfaces, are prone to chipping, and are best repaired by a professional when damaged. Those with granite and marble countertops also have to be careful when choosing cleaning products, because they don't stand up well to abrasive cleaners.